A spoiler free Dark Knight Rises review
The dark knight rises. Batman….that's all you have to say to spark my interest. The third batman film from the genius, mind fucking director Christopher Nolan. If you're looking for a repeat of the dark knight then go elsewhere. The third installment is a complete wrap up story that brings every piece together. It has a beginning, an origin; a middle, chaos; and an end; establishing your legend. The film moves thru flashbacks from the previous movies to highlight certain aspects and bring the story full circle.
The beginning of the film, I will admit, is very slow and the pacing is off. They needed to explain too much in a short amount of time and it felt crammed. This may be the reason a few people didn't like it. After they drawl thru the intro it picks up and just hooks you in like a giant chocolate cake sitting on your counter. You cant take your eyes off of it. I'm almost positive I didn't even blink lol. The ending just makes you say "hooooooly shiiiiiiit!" it finishes strong and completes this story that began many years ago.
Every one of Nolans films has very strong male actors and this one isn't any different…..except for the fact that this one also had strong female performances as well! Anne hathaway is catwoman, her portrayal was unique and made you feel that THIS is how she should be. Marion cotillard also delivers and you're not rooting for the females to die like you were with Maggie gylenhaal. Christian bale does his best portrayal of Bruce wayne and batman. Michael Caine made you wanna cry, Joseph gordon Levitt stole every scene he was in, and morgan freeman plays the likable charismatic lucius fox like previously seen. The one performance I felt that was lacking was Gary Oldmans. It's because if you watch the end of the dark knight where two face is about to murder his kid, when you said "harvey I'm sorry!" that alone made was so emotional and can't be beat so it made everything in the dark knight rises seem mediocre. My favorite character was Bane. I'm a huge Tom Hardy fan, watch him in Bronson and you'll love him too. His size and stature make it believable that he could fuck batman up! One thing many don't know is that bane is not some grumbling beast, he's one of the smartest villains in batmans rogue gallery. He's also one of the first to figure out he's Bruce Wayne. His voice and his dialogue show his intelligence and it captivated me every time. People are comparing hardy's bane to ledgers joker and they shouldn't be compared. They are two completely different characters and if I wanted to see ledgers joker I'd watch the dark knight. It'd be ridiculous if they were alike. They are completely different and completely amazing in their own way. Tom Hardy plays a perfect bane for the Nolan universe and there was no other way they could have done bane for it to work this well.
I am completely satisfied with this film and it was a perfect conclusion to batman. It left you wanting more but also quenched your thirst. I loved Nolans batman films and I'm sad to see it end but I'm glad it ended this way.
I give the film a 9 out of 10.
Movie Review: The Adventures of Tintin
*Again this is all in my opinion, so don't hate, this is just what I think. You might agree, you might not.
**oh and how I was able to see this movie, since it's not out till December 21st, is under the utmost secrecy. Sorry.
Made in 2011

Directed by: Steven Spielberg(MUNICH, E.T., Jurassic park)

Written by: Edgar Wright (Scott pilgrim vs the world) & Joe Cornish

Starring: Jamie Bell(King Kong), Daniel Craig(Casino Royale), Andy Serkis(Lord of the rings, rise of the planet of the apes) , Simon Pegg, and Nick Frost(both from Shaun of the dead and Paul).

Story: We follow journalist Tintin as he meets up with Captain Haddock in search of treasure all while solving mysteries.

My Thoughts: When I first saw the trailer for this I thought it was some stupid little kid movie, but then I saw it was directed by Steven Spielberg…Steven FREAKING Spielberg!!!! The guy who made sharks terrifying in Jaws, aliens seem nice in E.T., introduced us to Indiana Jones, made dinosaurs come to life in Jurassic Park, showed the persecution of Jews in Schindler's list, had the most intense intro to any movie ever with Saving Private Ryan, taught us we can make millions of dollars by committing fraud in Catch Me If You Can, and made Jews bad ass in Munich! There's no reason he should be making anything that looks like Tintin. I couldn't believe my eyes, I figured he'd gone insane. I later learned he's had much love for the Tintin comics since they started, so it was a passion project for him. In my opinion I still think he's gone crazy. He's amazing at live action films, he should stick to that. This film didn't do it for me. Yes the CG was cool but it was basically a kids film. You know when they say "fun for all ages" in the trailer i.e. dolphin tale….well it's basically like dolphin tale lol. It was essentially a children's mystery/ adventure film, similar to scooby doo and the hardy boys. I'm not into CG films, I prefer live action, but even that wouldn't have made it any better for me. It would have worked better as a television show, honestly. Since theres guns and one of the main characters is a drunk it really throws off the whole kid concept, but I guess it's different in Belgium. It makes it seem like it's more for an older crowd but its not, it is a child's film, there's no getting around it. I just wasn't fond of this film at all. The only thing I found cool was that the movie is based around 3 of the comics that they combined. I thought that was smart and made for a decent running time. The story is still simple and just about 2 guys on an adventure to find the treasure and stop the bad guys. Not much to say here with out giving it all away. You might enjoy simplicity like this but I did not.

Acting: The whole movie is motion capture and it's just their voices, so not much to say here.

Creativity: The film was made in CG and the CG looks amazing! Sometimes I wasn't sure if it was real or fake cuz it was that good. I'm not a huge fan of that kinda stuff but if you are then you'll love it. I do give em props though, cuz it was better than what I saw in the trailer.

Reasons to see it: If you're a fan of Tintin, love CGI, have a little brother or sister you wanna take to the movies, or just wanna see something new then go see it when it hits theaters December 21st. This was a miss for me. It's not really my style but then again I'm not a huge fan of animated movies, except pixar.

Interesting things:
-Peter Jackson is going to direct the sequel if this one does good.
-First animated film by Steven Spielberg.
-Spielberg has had the rights to this film since '83, so he's been wanting to make this for some time now.
Favorite Part: **minor spoiler**
My fav part is when Tintin is first introduced. They first show a drawing of him, its what he looked like in the comic books. I thought I was a funny little ode to the creator.

Overall rating:
Plot: 2/5
Visual look: 4/5
Final rating: 3/5
Review: The Hangover Part 2
Made in 2011
Directed by: Todd Phillips (The Hangover, Old School)
Written by: Craig Mazin & Scot Armstrong
Starring: Zack Galifianakis (Out Cold), Justin Bartha (National Treasure), Ed Helms (The Office), and Bradley Cooper (Limitless).
Story: The wolfpack is back. They're all headed to Thailand, this time for Stu's wedding. But as with the last one, they get messed up and are on a mission to find his fiance's brother with no recollection of what happened.
My Thoughts: This film had me dying to see it, and when I finally went to the midnight showing of it, i was insanely depressed of how terrible it was. I imagine the script looking like a middle schoolers rough draft. Where little details are scratched out and changed. It's honestly like they took the script of the first film, scratched out a few words and replaced them using a thesaurus. Instead of a baby it's a monkey, instead of a missing tooth it's a face tat, instead of being threatened by mr. Chow they were threatened by a man named Kingsley, and instead of loosing a satchel Alan loses his hair. It honestly got ridiculous of how little it changed from the first one. I know it had it's funny parts but all of that doesn't make up for a terrible script. If you're going to make a sequel you should do it right, not rehash the same EXACT plot from the first one to make a quick buck. All the originality that made the first one amazing was completely lost in this one.
Acting: The acting in this film was too over the top. They tried to go louder and crazier with each scene and in this case, less is more. Alan's love for Phil is stronger, and his random t-shirts are weirder. Stu's screams are more shrill and not all necessary. And Phil curses wayyyy too much, it's honestly not necessary. Yes cussing is funny but when wert other word out of your mouth is "fuck", it gets old. The one character I really liked was Mr. Chow. He comes in small doses and steals the scene every time. When he first appears you completely forget that you just saw Stu with a Tyson face tat. He was funny and definently needed.
Stuff that would make this movie better: For one it needed a more complex storyline and a lot more originality. Justin Bartha isn't lost this time and he's their best friend, he should have met up with them and helped them out, yes he doesn't know what happened last nite but neither do they, he needed a bigger part. If they're in Bangkok they shoulda had some crazy drug that's crazier than a muscle relaxant. Oh and for gods sake can something terrible please happen to Phil, just because he's the "pretty boy" doesn't mean his night goes fine, yes he gets shot but that doesn't compare to getting fucked in the ass. My friend Josh had an idea to make this movie better. For one it could have been Phil that drugs them this time, he had a fun time last time and possibly wanted to relive that. He has a wife and kids so this would be one of the few times he could enjoy himself, that makes more sense and is different. These could make it more interesting and steer clear of retelling the same story.
Reasons to see it: If you own the first Hangover then there's no reason to see this one. All you have to do is picture them in Bangkok and you're watching the Hangover Part 2. This film reminds me of those straight to DVD sequels. Where the storyline is so similar to the first, just to make a connection to the original, and the all the jokes are raunchier and dirtier just because they can get away with it since it's going straight to DVD. The only difference is that the whole original cast came back, usually they have some terrible actors to replace them. This movie was a complete letdown. Yes it has it's funny parts and entertains you but wait till you can redbox this, don't waste your money at the theatre.
Interesting things: The tattoo artist was originally suppose to be played by Mel Gibson, but the cast didn't like him and he was replaced with Liam Neeson. They needed to reshoot Neeson's scenes but he was busy filming Wrath of the Titans, so they swapped him out for Nick Cassavetes. The whole scene got changed 3 times. I hope they put Liam Neeson's part on the DVD :/
Favorite Part: My favorite part was when they first wake up from their crazy night. It was hilarious because they knew the same thing happened and were like "no fucking way, again?!" and Mr. Chow partied with them and knew everything that happened the night before. TOO funny!
Overall rating:
Plot: 1/5 stars
Acting: 4/5 stars
Final rating: 2.5/5 stars
Movie Demand: The Caped Crusader
Batman has a lot of names, and not all of them are as good as dark knight, but there are a few winners and caped crusader is one of em. After The Dark Knight Rises is released in 2012, director Christopher Nolan is going to leave sadly as the studios are planning to reboot batman, in other words make a whole new version -___-. It's pretty dumb considering they just did it, but the reason for it is because they plan to make a justice league movie and Nolan's real version of batman wouldn't make sense in a world where men fly around in capes and or they could run insanely fast. It's pretty depressing because Nolan has made not only the best batman films but the best superhero films as well.
Now I'm not sure how The Dark Knight is going to end up, story wise, but if it's possible for him to continue his journey, then they should do it in a film titled The Caped Crusader.
Basic Plot: There are so many enemies in batmans rogue gallery and very few of them have appeared on screen. This film would utilize that and bring in a new villain. Batman is still fighting crime, protecting Gotham city. One day he encounters a man, well appears to be one. He has a black skull mask on his face. They get into a little tussle because black mask just killed tons of people. Batman wins but Black mask gets away and swears to come after him. He hires deadshot, a villain known for never missing his target. Batman/Bruce Wayne have to figure out who black mask is all the while avoiding getting killed by deadshot. It'd introduce us to 2 new characters and keep the story real like Christopher Nolan intended. It'd involve the mob and it'd basically be a trends story.
Characters:
I'd bring all the original cast back, they're all terrific and needed for this movie to be a sequel. As for the 2 new characters,
Black Mask: I'd have Sam Rockwell. He's an amazing actor and could definently be a baddie. He's around the same age as Christian Bale, and that's needed since black mask and him were friends when they were children.
Deadshot: Mickey Rourke. Yes he has already been a bad guy in iron man, but that was Marvel, a and batman is DC, 2 totally different companies. Rourke has acting chops and a big build, easily could be an assassin. I think he'd fit perfectly.
Director: I'd offer it to Jonathan Nolan, his brother who's a great writer and could really fill the shoes of Christopher Nolan's slot.
Movie Review: Exit Through The Gift Shop
Made in: 2011
Directed by: Banksy
Starring: Theirry Guetta, Banksy, Zeus, Invader, Shepard Fairey, Monsieur Andre.
Story: Exit Through The Gift Shop follows the story of a frenchman and film maker, Thierry Guetta, who falls into the world of street art and wants to make a documentary about it and meets famous graffiti artists along the way.
My Thoughts: This movie, though being exceptionally good, was a tad bit confusing. You don't know whether to think it was real or fake. ….Let me back up a bit and explain.
Theirry Guetta starts to find street art intriguing, he follows his cousin, who's a steet artists as well, and then keeps meeting more and more artists and filming them and helping them out to eventually make a documentary about this urban art. Along the way he meets Banksy, one of the most popular and secretive street artists ever, and they begin this journey to make street art known. Banksy tells Guetta to take all the tapes he has and make a documentary, he does…..but it ends up being terrible. So Banksy offers to take the tapes and put his own spin on them and sees if he can make the documentary himself. He does, and Exit Through the Gift Shop is our final product. After this Thierry really gets into street art and comes up with his own persona, Mister Brain Wash, tagging everywhere trying to be one of the biggest. He eventually holds an art show which ends up being the biggest urban art show ever. And THIS is the confusing part. He is barely making his way up in the art world, he couldn't produce this much art in that amount of time. Plus a lot of his "art" looks really similar to other artists work throughout the film. Did he just steal their ideas?….. Or is this entire thing fake? It could be a huge art movement, constructed by all the artists in the film to come together in one huge show. In the film one person even says "idk how Thierry got this much art, it's way too much for him", making it seem like he didn't do all of this. Yes in the film it says he hired people but still, that's a ton of art to make. Not sure if this was real or a hoax but the film was great nonetheless. Really well made and very interesting.
Reasons to see it: If you're into graffiti and street art then you'll enjoy this film.
Favorite Part: My favorite part is when Thierry and Banksy go to disneyland and Banksy drops some "art" there. He blows up an inflatable doll that is suppose to look like a terrorist from Guantanamo bay, and he sets it up by a ride so when the camera takes a pic of the people on the ride the "prisoner" will be in the background. Thierry ends up getting caught, and when he's asked to show what he has on the camera, he deletes everything and says he has nothing and they can't do anything to him. So he gets let go.
Overall rating:
Story: 4.5/5 stars
Final rating: 4.5/5 stars
Review: Bronson
Year made: 2008
Directed by: Nicolas Winding Refn
Written by: Brock Norman Brock and Nicolas Winding Refn
Starring: Tom Hardy (Inception, and the upcoming The Dark Knight Rises)
Story: Bronson is a biopic about britains most violent criminal. It follows life of Michael Peterson, even though he goes by his fighting name Charlie Bronson, played by Tom Hardy. He commited robberies, injured many without any remorse, and even took a few people hostage. This is his life.
My Thoughts: The beginning of this film is scary. You see Bronson in a cage, bloody, beating up gaurds and then it flashes to little scenes of him explaining his life in a theatre and the crowd laughing. It got me hooked because I was a little confused and I had never heard of criminal Charlie Bronson before. As you continue to watch you start to learn his story, which isn't much of a story at all. Most people think criminals started being the way they were because something traumatic happened to them. That's not the case with Bronson. He had a good life, a loving mother, but was honestly just a bad egg. There's some people in this world that just aren't good people, Charlie Bronson is one of em. Idk if he's mentally ill or just plain stupid, but there's obviously something wrong with him. I get how some people like to fight, but to constantly feed off of injuring people is insane. This film is really interesting, as you get to witness the first hand, the criminally insane.
Acting: When I watched Inception I was blown away by the character Eames, and had never seen the actor before but knew he was playing the lead role in this movie Bronson. After I saw this film I honestly don't see why Tom Hardy isn't one of the biggest stars in Hollywood. He's a good actor…..no like really good! After you watch this film you're gonna be like "damnnn he plays this crazy psychotic criminal wayyyy too well". When I first started watching it, it seemed a little crazy, his performance was frightening. As the movie goes on his acting skills increase and you're left with this amazing actor on screen surprising you. Honestly one of my favorite actors after this film ended.
Reasons to see it: Biopics are always great films, it introduces us to a person in history, whether they did good things or bad, you learn about someone. It's like meeting someone new. In Bronson you get introduced to a monster, and it just shows us that not everyone has a good life, but it is interesting to see his. Plus Tom Hardy's performance is top notch. Even if you're not into violent films, take a gander at this film just to see great acting. It may not be your cup of tea, but it still is very, very good.
Interesting things: Jason Statham was suppose to play Charlie Bronson, but scheduling conflicts made it impossible to work out. I am soooo happy it wasn't him lol
Favorite Part: My favorite part is when he changes his name to Charlie Bronson. After that theres a fighting montage and it play this song, "glass candy" by digital versicolor. Idk why but the song really works and it makes the scene intense.
Overall rating:
Story: 5/5 stars
Acting: 5/5 stars
Final rating: 5/5 stars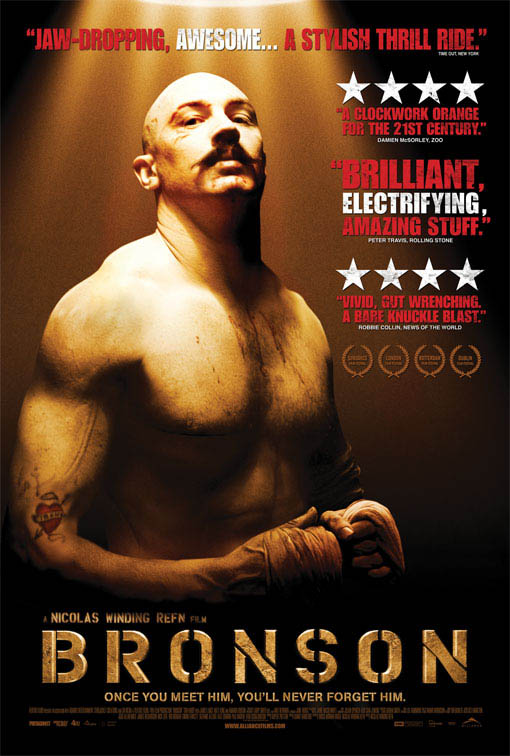 Review: Fast Five
Year made: 2011
Directed by: Justin Lin (The Fast and the Furious: Tokyo Drift, and the upcoming Terminator movie)
Written by: Scott Morgan and Gary Scott Thomas (The Fast and the Furious)
Starring: Paul Walker (Running Scared), Vin Diesel (xXx), Jordana Brewster (Annapolis)
Story: After Mia, played by Jordana Brewster. and Brian, played by Paul Walker, break out Dom, player by Vin Diesel, on the prison bus at the end of number 4 they're wanted criminals and they hide out in Brazil. They have to put together a team for one last job. The team consists of characters from the last few movies, including Vince, Tyrese, and Han, but many more. They plan to steal millions of dollars from the overlord of Brazil, all while agent Hobbs, played by The Rock, is hunting them down.
Acting: The acting is as good as it can get from a film like this. There's some directors that can mix story with action and have great acting show through, like Christopher Nolan, and some that…just can't do that, Michael Bay. Well Justin Lin is in that Michael Bay category. It's decent acting but there isn't a lot of passion in it. I've seen Paul Walker act, Running Scared, and he can do better. This movie just seemed to rely on action, and that really worked for them.
Action: When they say action packed in a film they're usually just begging for you to see their one action scene, but in Fast Five it's actually true. It's nonstop action from beginning to end. Who doesn't want to see fast crazy car chases, train explosions, and fights all the while stealing millions of dollars?! Thats what this film has but words cannot explain. Justin Lin gets this done right and really amazes you by everything that happens. If they just edited all of the action scenes together I'm sure people would see it. Its terrific.
Reasons to see it: This movie is action packed, has a good story, decent acting and is really entertaining. For me this is the second best one. The first one is the best by far and tokyo drift is close to this one. It honestly took my by surprise. It's another chapter in the story of the lives of Brian and Dom, and seeing how they get through it. You should really watch it not just to see how the story ends but to witness the journey through it all.
Interesting things: Stay after the credits….you get to see an interesting scene. You find out why Han is always eating chips lol. The scene where the huge tow truck thing crashed into the train was a mistake. They were going too fast and hit a bump and hit it, it was so powerful that it moved the actual tracks a few inches over. Trains are really expensive and they couldn't afford to re-do the scene but the studio liked it so they re-wrote the script to add that in…….I wonder what was suppose to happen? (my stepmoms dad works on trains and he did the train sequences for this film, he also worked the trains in Wild Wild West, Water for Elephants, and the upcoming Lone Ranger movie starring Armie Hammer and Johnny Depp) Spoiler Alert Theres a scene with han driving to ____ but a girl says "I thought you wanted to go to Tokyo (like how he was there in Tokyo drift) and he says "we have a lot of time", as if we might get to witness a spinoff movie with Han as the front man, it'd be interesting.
Favorite Part: My favorite part is most likely different than other peoples. I love it when they're planning "the job". You get to see how they imagined it to work out. You get to see them practicing and testing it to make sure it works. Yes in movies something usually happens and it doesn't work out like they'd hope but it's soooo cool to see all the work that they did in planning. So when they were testing the track with the cameras and trying to beat it by using their driving skills it was pretty cool I thought.
Overall rating:
Plot: 4/5 stars
Acting: 3.5/5 stars
Action: 5/5 stars
Final rating: 4/5 stars